Chile
Felices Pascuas, la Nenita, y el Oriente
Sunday was Easter! Paula and Roberto don't really attend mass, though they are Catholic, so I ended up going to a service with my classmates David and Caroline in Parque Metropolitano. We took a steep tram, el funicular, up to the statue of the Virgin. There's a small church up there, with lots of long benches and a stage for big shows outside. We made it just in time to grab seats in the church. Others were stuck in the doorway or outside of the church altogether, but fortunately there was a loud speaker projecting all the sound to the outdoors pretty clearly.
The service was lovely. Of course, none of the three of us were well-versed in the songs or the prayers in Spanish, but it felt nice to be part of the community. The service also wasn't overly formal; there was only an acoustic guitar accompanying the songs, and the whole crowd was joining in on all of them. The priest gave a sermon in which he encouraged everyone to be open and accepting to the immigrants arriving in Chile, fleeing from problems in their own countries (still a hot topic in my house…I'll get to it later). He emphasized that those in attendance but not with their families (AKA, us) were not alone and that our families were still with us on that day. It felt wholesome. I also always get a kick out of church archetypes. Like every church in the world, there were some overly rambunctious kids, some women who loved belting out the lyrics to all the songs, some men with gross sweaty hands when you offered them the peace. It's reassuring to know that I can find these people in literally any church on earth.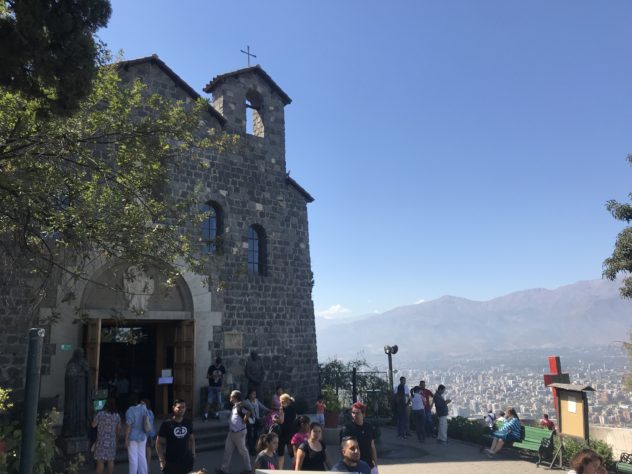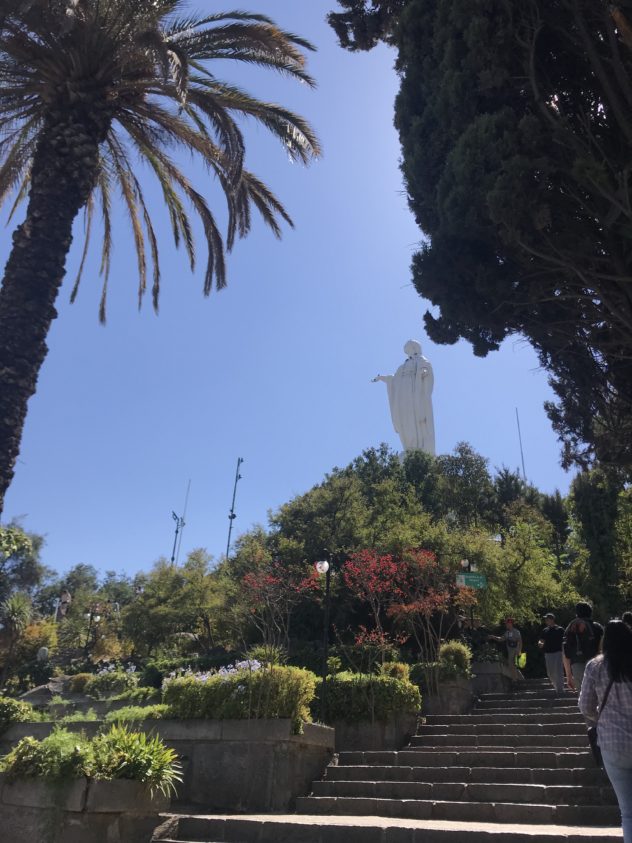 The following day was special in its own right because la Nenita came to visit. Clara Elena, better known as la Nenita, is Paula's mother. She lives in Viña del Mar, but came to get some errands done and see some friends in Santiago. Good thing she came after the holiday weekend. The traffic leaving Valparaíso was so bad on Sunday, it made front page headlines on Monday.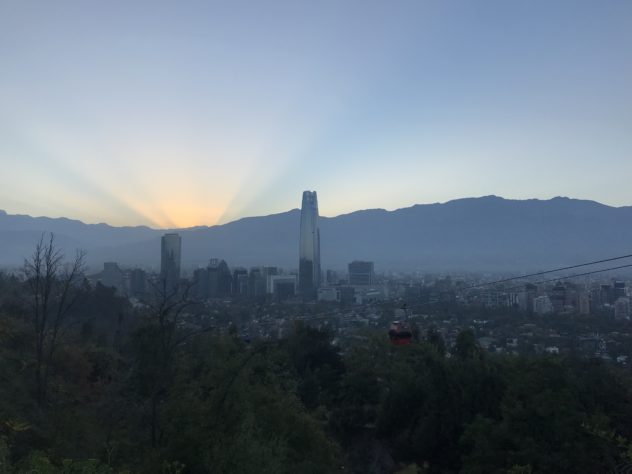 For la Nenita's arrival, Paula made "cazuela" for lunch. She says it's probably the second most typical Chilean dish, after empanadas. It's essentially chicken soup, but with more gusto. There's lots of rice and veggies in it, plus pumpkin, potato, corn, and big piece of chicken (or meat of one's choosing). Often served with sides, like salad and bread. I told Paula that I'd sacrifice being vegetarian to eat this dish, and I wasn't disappointed. While we ate this delicious soup, la Nenita went on and on about her holiday weekend, who she visited, how she thinks so-and-so doesn't like her, how this person has gotten fat, why the Bolivians are foolish to think Chile will give them land, etc. I quickly discovered where Paula learned to roast people.
La Nenita then left to meet her friend, though Paula and Roberto had to accompany her to the metro. She has fallen many times while in the city, but often refuses help. Paula says she's restless because she worked in a bank for her whole life and was always out of the house, so now she refuses to be trapped at home, regardless of her body's capability to navigate the outside world. She was gone for 4-5 hours, then came back for dinner. It was at dinner that the topic of the immigrants came back up. I had read in the paper the previous morning that there are literal hundreds of Haitians, Colombians, and Venezuelans entering Chile DAILY. La Nenita was complaining that Paula's daughter, also named Paula, was making her feel bad about not wanting so many immigrants entering Chile. Paula (my mom) explained that her daughter and others who defend the immigrants think that those who don't are racist. But Paula argues it has absolutely nothing to do with skin tone. It's simply that already, Santiago makes up half the population of all of Chile, and practically all immigrants come to Santiago. In Santiago, the government tries to supply housing and medical care to the poor, but it takes a long time. Now, with many more poor people entering the country, the poor Chileans have to wait even longer to receive help from their own country. And just as it is for these poor Chileans, it's extremely hard for immigrants to improve their financial situation in Chile. So it's really just an issue of economics. In Paula's words, "Say there are a million poor Chileans living in Santiago right now. With the arrival of all these immigrants who struggle to rise out of poverty, that number becomes 2 million. What good does that do for anybody?" She doesn't have a problem with the immigrants; she has a problem with the governmental system that receives them – a system unequipped to support them and its own people fully.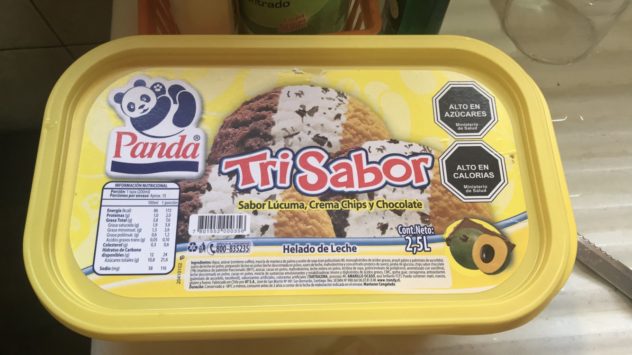 Today was just full of treats. Our professor, Maria, has been somewhat sick for about a week. She came to school for just 10 minutes to leave us some donuts and to introduce us to Pamela, a Chilean professor who's taught at CC and would teach our class. Pamela gave us a very clear explanation of the military coup in 1973 led by Pinochet, how he stayed in power, the differences between political parties, etc. We all now have a much better understanding and benefited greatly. Pamela asked us if our host families talk much about the dictatorship and was surprised to hear the vast majority of us say, "No, they don't." It's a strange thing. While I was in Cuba, the Revolution was also a taboo topic; you could talk about the Revolution, but only its successes – never its failures. While in Germany, on the other hand, I found the country very willing to assume responsibility for its great failure, the Holocaust. Much respect and acknowledgement is paid to the terrible stain the Holocaust left on the nation, evident in the countless monuments and homages dedicated to those who suffered through it. Here in Chile, half the population lived through the dictatorship; it really wasn't long ago. And while the atrocities committed by the dictatorship are common knowledge, Chileans don't talk about it. Maybe they're trying to just move on, not in any disrespect to those who suffered, but in an attempt to keep improving their country. In any case, whenever I mention that we've discussed the dictatorship in class, Roberto and Paula are pretty quiet.
After class, we had a tour of the "west side" of Santiago. We first drove through "Sanhattan," Santiago's version of Manhattan: lots of offices, high rise buildings, parks, and men in suits walking around. We passed the Costanera Center and reached an even more luxurious mall. This one had a pond full of boats outside of it, incredibly fancy outdoor stores, a sick rockclimbing wall, a trampline center, a ropes course, and even a Crocs store! We were flabbergasted, to say the least.
On the drive, our IFSA tutors Alice and Claudia told us a legend about the highway. As the legend goes, a young blonde woman died tragically in an accident on the highway. Now, at night, taxi drivers will see a blonde waving them down for a ride. She'll get in the car, and as they drive, she'll ask the driver to please slow down. When the driver turns toward the woman, she's gone. She simply appears so that she can get drivers to drive at a safer speed, to make the highway more safe.
We expected to see perhaps some less well-off neighborhoods on this tour, but saw nothing of the sort. We did see a communal living area, but all the houses, though identical, were a nice white brick and the community looked pretty pleasant to live in. Plus, it was right by the mountainside. We also got to see the house of the architect of the Costanera building – this house was tucked into the mountainside. To round the trip off, we went to Parque Metropolitano to take the cable car (el Teleférico) to the statue of la Virgen and then take the funicular down. For Austin, David, and I, it was a little "been there, done that" (this morning, in fact) but enjoyable regardless.
Came home to a wild Clarita wanting to play fetch and Paula watching a Latino version of Judge Judy ("Caso Cerrado") while cooking dinner. Can't complain.