Chile
Daniela Amaya, Completos, y Las Palestras
An eventful weekend!
Thursday night was the concert for my host sister's band, Daniela Amaya (follow her on Instagram, @damayamusica)! Dani (Daniela) is a kinesiologist by day, musician by night. She works her day job really only to make money to fuel her real passion, music – she works for an insurance company, taking calls from people looking to qualify for physical rehabilitation benefits. Honestly, she's almost never home. She goes straight to recording, practicing, meeting with her band, etc. after work. When she is home, she'll occasionally play piano in her room and it's wonderful.
This concert was at a mall, strangely enough. On the top level was a huge terrace full of restaurants. At the very end of the terrace, there's a small theater with seats. We arrived at the mall and Paula got impatient with Roberto's dawdling, then she proceeded to take forever to actually enter the theater, as she was gabbing with all her friends. We had no trouble getting good seats, though. By the time Dani came out, the venue had filled up.
I would characterize their music as uplifting, light rock. Dani has a lovely voice and plays acoustic guitar, while her bandmates – three guys older than her – play electric guitar, bass, and drums. Between songs, Dani would explain the story behind the lyrics in a very humble, clear way. Some of their best songs are "La Lotería" and "A Mi Futuro" (the latter they're hoping to release as a single on Spotify and record a music video for next month); Paula knows them all, and in total mom fashion, was clapping and singing and cheering without fail. Overall, they performed excellently. Dani expressed some frustration with some sound issues, but they were imperceptible to the audience.
The band that followed hers was very eclectic, a little jazzy, a little electronic, strange instruments. There were also like 6 or 7 members. The lead singer, a sassy, charismatic young women, was the complete opposite of Dani – loud, a little abrupt, cocky. They were very talented, though, and I could feel Paula bristling at the lead singer's boldness. I tried not to show as much enthusiasm for them, out of mild fear.
The following day, we went to an after-school program for at-risk youth in a poor section of Santiago, towards the south. There, we met about 20 kids, age 6-17, but majority 8-10 years old. In customary fashion, they all kissed us hello and all kissed us goodbye, an adorable but long process. We played all sorts of games with them, most of them being their own invention. Getting a game started was like herding cats, trying to explain the rules and divide into teams. But the kids were hilarious and so loving with us. We found it funny that they use the verb "quemar," which means "to burn" to refer to getting someone "out" in a game. They were yelling "Quémalo!" over and over, utterly ruthless.
After tiring themselves out, we had "once" with them, which is a meal Chileans take between lunch and dinner, a kind of tea time. We were served very sweet hot tea and "completos," which are a very typical snack here. They're loaded hot dogs, but loaded in the best way: lots of avocado (palta), tomatoes, ketchup, mayo, mustard, and salsa verde (not the typical salsa verde – just cilantro and onion). We need to start eating hot dogs this way in the US. 10/10 would recommend.
Yesterday and today were exhausting but incredible. Austin and I went to San José de Maipo, about 20 miles south of Santiago, to rockclimb. We arrived in Manzano, the northernmost town of Maipo, yesterday at 10 a.m. It then took us over an hour to arrive at the crag, because we simply couldn't find the proper trail to get up to it. We asked several people and wandered onto random properties, until eventually one guy asked us, "How'd you even get in [his property] here?" He showed us the correct trail so we could finally get on track, and a stray dog actually accompanied us the whole way. It was like she was leading us to the climbers.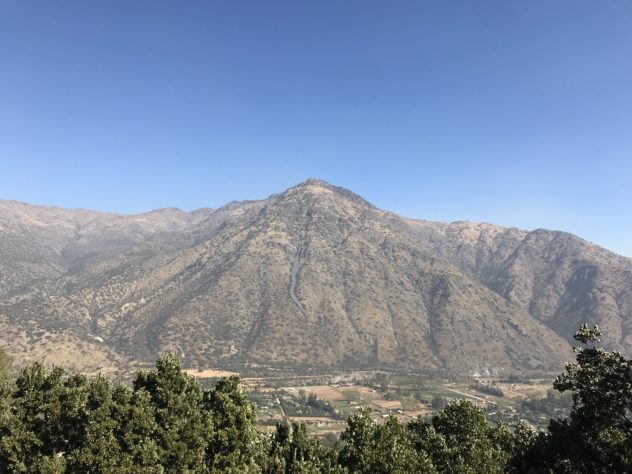 We climbed in an area called "Las Palestras," which is (excuse the climbing jargon) a bomber sport area, super well-bolted, with a wide range of route grades. The rock was great quality and reminded us of the rock at Shelf Road, but thankfully less sharp. The area is very popular, so we were surrounded by other climbers. We didn't mind, since we got to learn climbing words in Spanish from the others and teach the English equivalents to them. We stayed at the crag for probably 6-7 hours before we finally were out of energy. Literally every route we climbed was fun and diverse and challenging. We were just so content.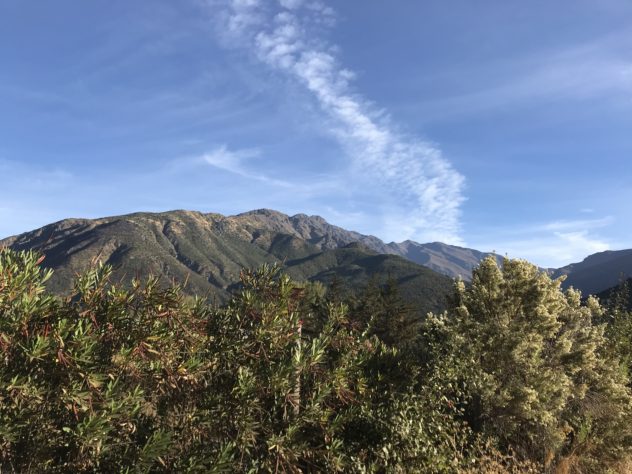 The biggest struggle was our utter lack of food. We both ate light breakfasts, and then at the crag, all I had on me was an apple and 3 kiwis, Austin, a salad, 2 juiceboxes, and some cookies. We were ravenous when we got back to main street, but we needed to check into our Airbnb. So we entered this gas station to get something to "tide us over." It was practically teeming with snacks,  it was so overwhelming. Unfortunately, all of the snacks were super sugary, unhealthy, unfulfilling things – cookies, chips, candy, etc. Things I knew would do nothing to quell my hunger. The shop owner, we quickly discovered, was also incredibly chatty, and would not stop grilling us about what we wanted, what we had been up to that day, why we were in Chile, what were we studying, and so on. I was just so hangry I could barely deal with all his questions, much less speak eloquently to him in Spanish. Austin smiled through it as usual. We eventually settled on some oat cookies with muesli (healthy, right?) and continued on to the Airbnb.
After some wrong turns, we found the correct street. However, we had no house number from our booking – the website literally just listed the street name. So we kept walking and walking, until eventually we called our host, Leonardo. At this point, I just wanted to fall asleep on the side of the road, I was so tired and hungry and confused. Leonardo totally did not understand what I was saying to him on the phone, so he just said, "I'll come find you." He must have been baffled by the sight of us. Me, crouched on the ground, wearing a backwards baseball cap, Austin wearing two backpacks, both of us very dirty and looking worse for wear. Leonardo looked to be a mid to late 20-something, with a beard, some cool piercings, and tattoos – the definition of Chilean hipster. He led us to a couple small, rustic houses. The bigger house was his house, the smaller, our accommodations: a whimsical room with two beds, a large armoire, a desk with tattoo designs, and decorations everywhere. Little jars and bottles, books, paintings, instruments, dream catchers. The only downside was we'd have to go into the main house for a bathroom, and we had no wifi. We had a roof over our heads, so that's all that mattered.
We dropped our stuff then immediately headed back out in search of more food, still ravenous. Leonardo recommended "Antiguo Sueño" as a popular, cheapish locale. It took us very little time to walk there, which was fantastic, and the place itself was so lovely. Also hipster like Leonardo's house, it had lots of colorful painted walls and lights, bicycles hanging from the trees surrounding the outside tables, and cloth placemats that looked like vinyls and had little pockets for your utensils. We sat outside and devoured (more like destroyed) a veggie pizza and pastel de choclo, a typical Chilean dish. It's similar to polenta in that it's mostly pureed corn, but below the corn are layers of chicken and beef, and there's some olives and hardboiled egg thrown in there too. It's then cooked in the oven till brown. Excellent. We also tried a local beer, called Las Palestras, which wasn't inspiring but certainly not bad. An amber ale, supposedly apple-flavored but I didn't really detect it.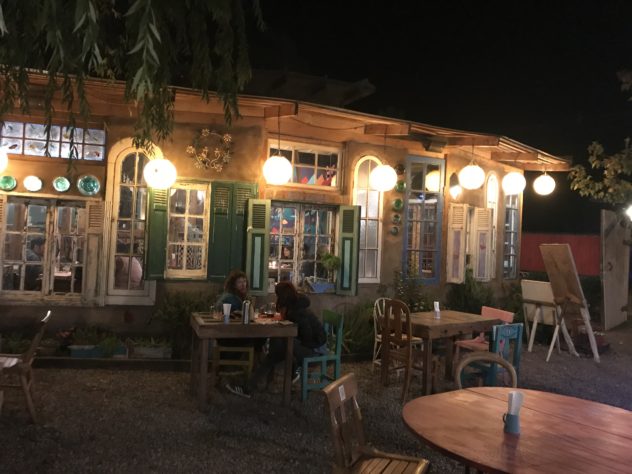 This morning, we headed out early and tried again to buy food at the gas station, getting chatted up relentlessly once more by the shop owner. We bought cappuccinos and doughnuts, only to find out that the cappuccinos were sickly sweet and had virtually no coffee in them, and that the doughnuts weren't doughnuts at all but small cookies. Luckily we were able to get some empanadas for lunch, so we did have some real sustenance.
We went back up to Las Palestras and it took half the time as it did yesterday, now with the trail under our belts. Though we climbed less today, it was just as fun, and there was a very international bunch at the crag – Colombians, French, Chileans, and even a girl from North Carolina. Once again, we left super content.
This week will be another whirlwind, as we have a 10-15 page paper due Wednesday but also have an opera to go to tomorrow night, a Quilapayún (famous revolutionary rock group) concert Tuesday night, and block break in San Pedro de Atacama on Thursday. Looking forward to it all, as long as the work doesn't detract from it.