Chile
Parque Aguas de Ramón, Art Museums, and Gnocchi Fest
A full weekend just relaxing in Santiago was just what the doctor ordered. We've been running around every weekend thus far on some excursion, so we haven't gotten to really take advantage of exploring the city on our own.
On Saturday, David, Caroline and I went to Parque Aguas de Ramón, a park on the western periphery of Barrio las Condes. The whole park is very official. You enter and pay a fee of about $3, then are directed to a table with guides there to greet you. You look at the hike options. There are four hikes, ranging in length from only a couple kilometers to nearly 18. Once you've chosen your route, a guide explains to you the features of the route. "The first 15 minutes are pretty steep. After that, the ridge levels off. You'll make your way along some small rolling hills until you reach the waterfall. On return, you'll cross a bridge, gain some elevation, then come back down. Make sure you don't smoke or start a fire. Pack out all garbage." It was so orderly; we wrote down our names, our cell numbers, genders, country of origin, even our passport numbers. I personally felt a little miffed – we're from Colorado, OK? We know how to hike.
However, sure enough, the first 15 minutes were pretty steep and we were sweating. We walked along a ridge for about an hour before reaching the waterfall. The timing ended up making me feel better – the guide told us it would take 1.5 to 2 hours. While most of the hike was more scrubby, lots of rugged trees and cacti, the waterfall section turned a little jungle-y. We sat and ate our lunches by the waterfall before crossing the wobbly bridge and returning to the park entrance. Our "4 hour" hike was really only 2.5 hours, and a leisurely 2.5 hours at that.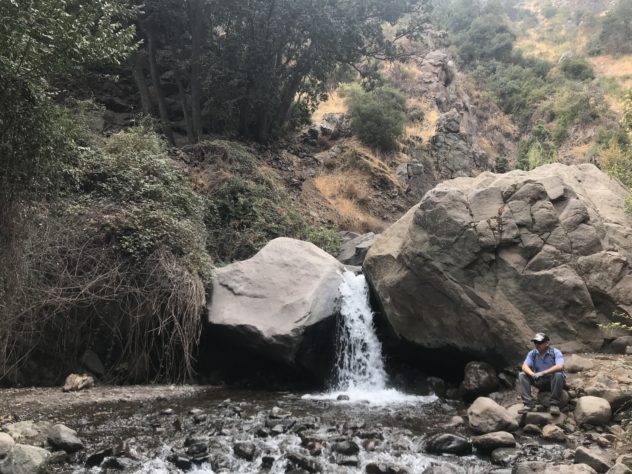 We took an Uber back to Barrio Italia, watching how the appearance of the streets changed constantly through the Santiago neighborhoods. In Italia, we bopped around the hipster, edgy shops, only buying gelato and having a ball.
Sunday was also lovely. I woke up a little before 9, then went on the most glorious run of my time here. Fall has really hit, leaves falling everywhere but the temperatures still comfortable. The highway is closed from 9 a.m. to 2 p.m. every Sunday, so I was surrounded by fellow runners, cyclists, roller skaters, and skate boarders. I felt so liberated running on the flat, wide-open streets in the sun. I passed free bike repair tents and water refill stations, marveling at the city's dedication to weekly outdoor recreation.
After breakfast, I went to Barrio Lastarrías to visit MAVI, the Museo de Artes Visuales. It's a free contemporary art museum, small enough to not overwhelm you but big enough to make a solid 45-minute visit out of it. The exhibits included an indigenous archaeological collection, a serious of pencil sketches of a sleeping old man, oil paintings of a young girl floating through space, and painted volcanic rocks by a Mexican artist. It was a diverse, lively collection that I genuinely enjoyed, especially not being a huge art buff.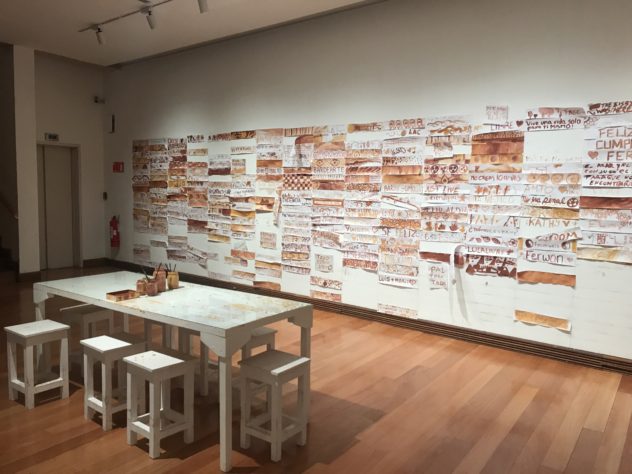 Following the museum, I briefly checked out a dance workshop at the GAM (Gabriela Mistral Cultural Arts Center). I purposely came during the hour dedicated to Cuban dance, and made a fool of myself trying to dance along to the son clave. The crowd was pretty big and diverse, all ages and genders and appearances. The love for dance at the GAM is really palpable; you always see people practicing routines in its plazas.
At home, Paula fixed Roberto and I a lunch of zapayo italiano, a kind of zucchini casserole that contains egg, cheese, creme, and a bunch of veggies, plus duquesa, which are little fried mashed potato balls. They're amazing. I had already had them earlier in the week when Paula made me tomaticán, which was kind of like fajita filling – soy (usually beef or chicken) seasoned and sauteed with peppers and corn. Paula just buys the duquesa, as they're pretty labor intensive, but I'm not complaining.
That evening, I had the honor of attending gnocchi fest! This 29th, it was held at Paula's house, a family friend who lives with her husband Sharif and two daughters, Simara and Valentina. Their house is just on the western edge of Santiago, actually located by some vineyards, and is in a gated neighborhood. Their home was beautiful – fancy furniture, a nice back patio, and a pool.
We arrived and ate tons of appetizers, mostly bowls of chips mixed with nuts – Doritos and peanuts, potato chips and cashews…a little odd. And of course, pisco sour. Paula (my mom) and Sharif were reminiscing over Sharif's wedding photo album. I sat and talked with their in-laws, Pati and Jorge (Jorge had the birthday that first weekend in Santiago).
The gnocchi was outstanding; we had both gnocchi in bolognese sauce and in a chicken alfredo sauce. The tradition comes from Argentina, which has a strong Italian influence. So it goes, managers used to invite their union employees to dinner at the end of every month. At said dinner, the workers would find an envelope under their plates with their pay. The idea was to keep the union members happy and prevent them from staging strikes and whatnot. In that vein, we all put a bill under our plates as a sign of good luck/wealth. While the food was good, the conversation turned a little uncomfortable for me, especially when the following was said, point blank (quotes kept anonymous):
"Oh, I know I'm a racist!"
"We Chileans are racists."
"In Chile, when a baby is born, we'll say, 'Oh, look how beautiful and white that baby is!' And if the baby has darker skin…no one says anything."
So yeah. I got a lot of Spanish listening and speaking practice, tried some Chilean wine, watched Roberto power his way through 2 hefty slices of pie. But the conversation was definitely a jarring.
Going back to school the next day was also jarring. We had double class on Monday, watching a documentary in the afternoon, so that we wouldn't have to meet the next day, Labor Day. No IFSA workers would be in the office because of the holiday, so we'd have had to let ourselves in. Paula calls Labor Day, "a lost day." Nothing is open and you're obligated not to work. Even if you want to work and earn some more money, you can't. And so, we all stayed home and relaxed (Paula and Roberto relaxed…I did 9 hours of classwork…), while workers staged some peaceful marches on the highway, as is customary.
When we returned to class Wednesday, we had a long discussion of the documentary, followed by a visit to the Precolonial Arts Museum in the afternoon. The displays were really well done, employing stark lighting to highlight the jewelry, ceramics, and statues of many diverse indigenous groups. I got a kick out of the exhibit entitled "hallucinogenic snuff kits."
Now to power through an analytical essay before our weekend in Mendoza, Argentina – wine country!