This weekend was so luxurious that we're still a little in disbelief. I mean, the fact that we just popped over to Argentina, and its wine country at that, is just nuts. We feel so privileged and grateful. 
We had another early flight, meeting at the airport at 7 a.m. Isa picked my professor, Andreea, and me up. It wasn't clear to me who was driving; it wasn't a taxi or an Uber, so I think it might have been her son driving the family car? It was a guy probably mid-20s, and at 6:15 a.m., he was blasting Spanish death metal full of expletives in the car. Isa seemed to be oblivious, calling Andreea and my classmates to make sure everyone was up and ready. It was definitely not a relaxing drive to the airport. 
At the airport, I finally succumbed to trying Chilean Dunkin Donuts. I really wanted to avoid US chains here in Chile, but this was a cultural experiment – I had to see the similarities and differences. For the most part, the drinks are the same, except they are fewer options and there aren't like 10 flavor shots, only mocha and caramel. The donuts were different. The usual sprinkled, glazed, and frosted donuts were there, but they also employ "manjar," which is basically dulce de leche spread, on and in lots of donuts. (Manjar is also just a very popular flavoring all over Chile and Argentina). They also had strawberry jelly-filled, strawberry frosted donuts. So a double strawberry, with sprinkles! Really, a worthwhile study. I got a powdered sugar, manjar-filled donut plus an iced latte, and I felt right at home. 
The flight was less than an hour, since Mendoza is right on the border of Argentina and Chile, just over the mountains. Apparently the views were great, but I passed out for all of it. We arrived in Argentina and had virtually no trouble making it through border control and customs. I accidentally smuggled an apple into the country…whoops. 
The hotel wasn't far from the airport, thankfully. It was cloudy and low 60s when we arrived, which is very common for Mendoza this time of year. It's very cloudy all the time, but supposedly never rains. The altitude is a little higher than that of Santiago, 746 meters to Santiago's 570. 
Our hotel, El Portal Suites, was quite classy and was ironically right outside of Plaza Chile. Mendoza actually owes its strong economy to Chile, since its only 6-7 hours by bus to Santiago and an hour by plane. Mendozans rely on their own wine, olive oil, and tourism industries economically, but also just hop over to Chile to purchase items for much less. In 2010-2011, Argentina's economy was hit pretty hard, but Mendoza stayed strong due to its ties to its western neighbor. 
We had time to explore before lunch, so we took a walk along the green streets. Mendoza has just tons of beautiful, long boulevards lined with tall trees forming canopies. My classmate Caroline (who was in Argentina with CC for 2 months before Chile) says you can really see the European influence in Argentina through its trees. Because Europeans wanted to recreate their own parks, they planted trees immediately upon arrival, so now all the trees in Argentina have grown huge. This influence is also evident in its parks – not only are parks abundant, they have massive, lush trees and plants and impressive fountains. Some of the fountains even have pink water since it's the month of Malbec, to make it seem like the vino tinto has been added to the water.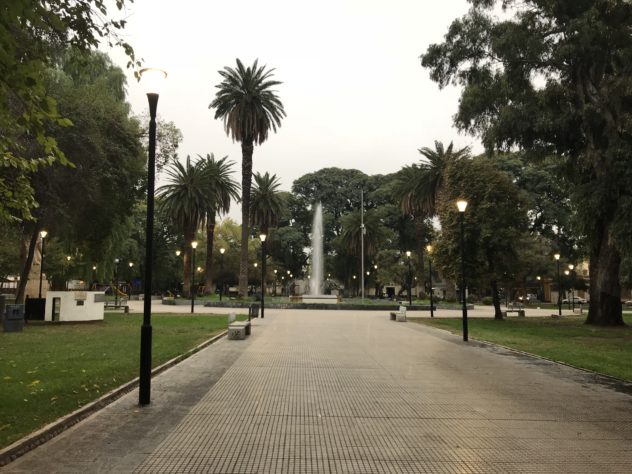 Plaza Chile is also just the southeast corner of a grouping of 5 plazas. With Chile, Plazas Italia, San Martín, and España form a quadrant around the city's main plaza, Plaza Independencia. Independencia is naturally the biggest and has a city museum. The fancy Plaza Hotel is located right to its east. Along the way there, you of course pass lots of wine bars, but also many high-end chocolate shops. The buildings are generally short, two stories, without much to their facades. 
After our walk, we had a ridiculous lunch at the hotel. To start, lots of bread with basil and rosemary olive oils and parmesan. Most of us ordered beet gnocchi, which was served in a thick, cheesy, creamy sauce. We were already stuffed, but then proceeded to dessert: either passion fruit mousse with manjar, served in a large bowl made of chocolate, flan with manjar, ice cream, and chocolate, or an ice cream bar with manjar, chocolate, and nuts. You could say we were stuffed. 
We took another walk to digest and found a park that was being set up for some big wine fest. The decor was really classy and we wanted to return for the actual festival…never made it. Still a cool sight to see.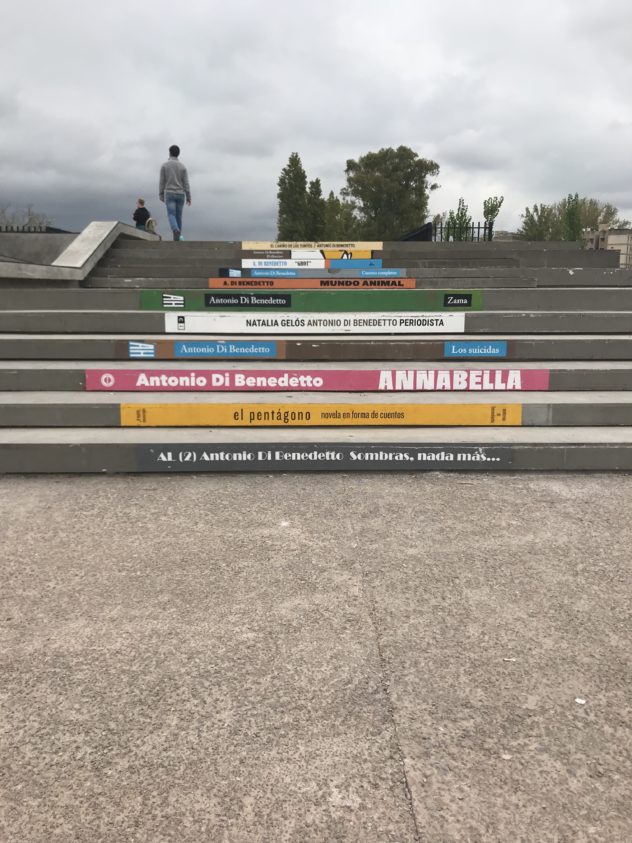 Back at the hotel, Isa took us out walking. In our plaza, there was a large statue of Bernardo O'Higgins and San Martín, the revolutionary war heroes of Chile and Argentina, respectively. They actually fought together for the independence of both countries, another tie between the two. 
At Plaza Independencia, we boarded an open-air tour bus to see the city. It was a little chilly and the guide was difficult to understand with the poor sound system, so we didn't get a ton out of the tour. We basically did a loop around the plazas that we could have done walking. 
Still stuffed, David, Austin, and I went for a run in Mendoza's version of Parque Met, Parque San Martín. The park is enormous and has a large black and gold gate entryway. From there, you can walk down long boulevards, explore lots of trails, visit the zoo, or trek to the statues on the hills. We ran up to a huge war statue that we'd later visit the next day, and got an excellent panorama of the city. 
After running, we showered up and went out in search of Malbec. The three of us plus our classmates Anna and Noah found a really hip wine bar called Bowie, named after the legendary rock star. We tried their Malbec and a lighter red, called "Tintillo." The Malbec was better, but we liked both. We sat on the plush couches drinking and playing cards with my new Yellow Submarine deck (thanks, Dad!), feeling so lucky and once again, in disbelief. 
At last we felt like we could at least survive dinner. Of course, Isa took us to a "tenedor libre," or a typical Argentinian buffet. We tried so hard to restrain ourselves. But restraint is very difficult when they had crepes with manjar and ice cream. I had already decided at lunch that it was a "love yourself" kind of weekend. 
The next day we rose to more luxury. A breakfast buffet with cereal, fruit, yogurt, eggs, pastries, lots of toasts and spreads, and croissants (media  lunas, "half moons," very typical of Argentina). Coffee with warm milk and juice. Love yourself kind of weekend, indeed. I took a walk after to just get some more digestion going. 
The luxury continued that morning. We visited the Zuccardi family vineyard, a highly reputable vineyard known for its Santa Julia wines. After exploring the shop and tasting room, our guide David, a young, handsome, hipster Argentine, welcomed us. He gave us a brief history of the vineyard and the plan for the day: see the distilling process, ride bikes through the vineyard, try some wines, then eat lunch at the restaurant to "recuperar energías." We were ready. 
The Zucchardi vineyard produces 3 million liters of wine per year – that's two Olympic swimming pools. Plus 5,000 liters of olive oil. David said that in the olden days, Argentines drank tons of wine – basically a bottle every two days, individually. Now, Argentines drink about half a bottle a week, each. There's more interest in quality than quantity. 
David took us out to the machine where the grapes are first pressed, saying the durability of the grapes will dictate how they're transported to the distillery. A "mountain" of grapes are piled into the machine and pressed, then processed along intestine-like tubes. There, they can play with the temperature of the juice, since it has no alcohol yet.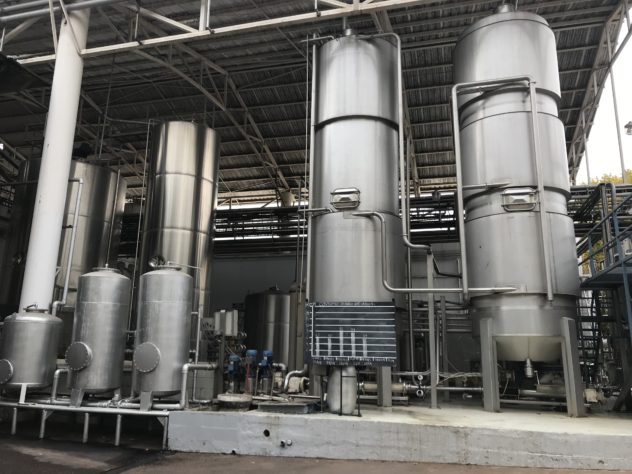 David then directed us to the different processing tanks. I can't say I remember or understand how it all works, but how the grapes are processed depends on how durable they are and how strong their flavor is. To make sweet wines, the grapes are fermented longer, making the wine less alcoholic. So, if you want a stronger wine that is still sweet, you'll have to add alcohol once you've fermented it to the desired sweetness. There's been a movement to process the juice in barrels that don't absorb any of the flavor, less emphasis on wooden barrels and the supposed "notes" they create. Vineyards are also getting into making more organic wines, but it means every step of the process must be organic…whatever that means. 
Following the distillery tour, we hopped on bikes and cruised along the rows of grapes, even stopping to pull grapes off the vines to taste them. The vines all were protected with nets, simply for the very rare occasion when it hails (but like I said, it doesn't rain). David directed us to a section for organic wine grapes, then out of his adorable bike basket, took out wine glasses and three wines for us to try. Our group of 13 plus 4 Brazilians tried their tintillo (coincidentally, the same from Bowie), as well as two other reds. The difference between them was what they were distilled in. The tintillo, wooden barrels, the second (a name I've forgotten, but a drier red) a mixture of wood and steel, and Concreto, a very full-bodied red distilled in only concrete. All wines were very solid, but I can't say I love wine in general. I'll stick to my stouts.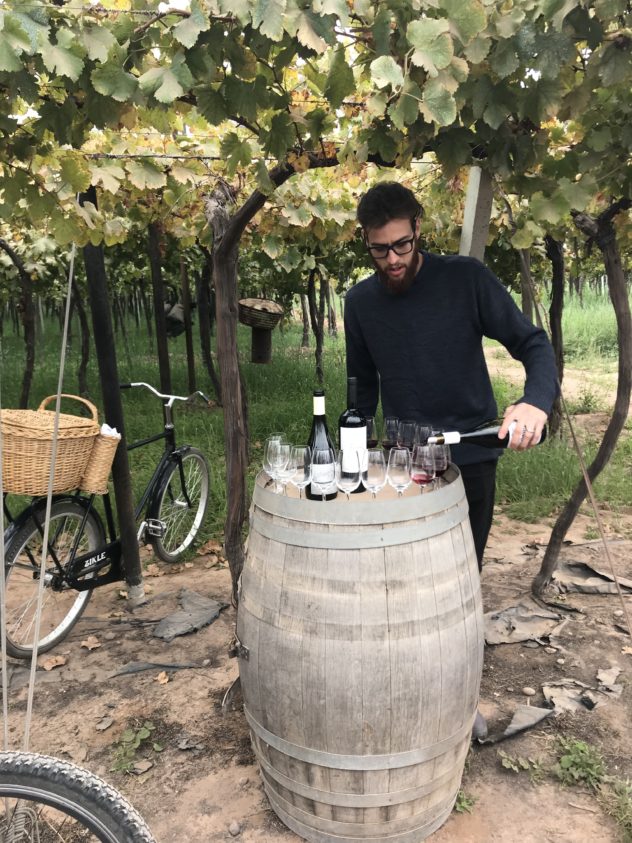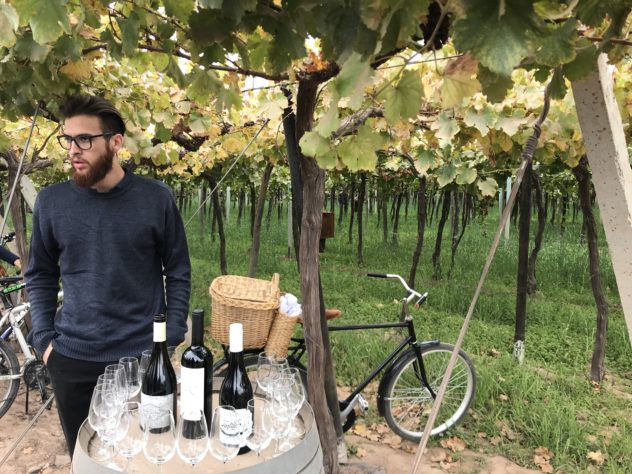 Back at the vineyard, David offered us one more taste, a red that costs around $45. It was exquisite, possibly the best red I've had. Just so fine. 
At this point, we were all pretty hungry for lunch, but were totally unprepared for what came. We entered the bourgie restaurant and were served a gigantic cheese, meat, nut, and dried fruit platter, with bowls of hummus, tapenade, tomatoes, marmalade, and eggplant. Plus plates of bread that didn't stop coming and bottles of both white and red wine. We found ourselves in yet another food coma, and Andreea cancelled the class she had planned for the afternoon. Love yourself, love yourself. 
We returned to Mendoza city center and went back to Parque San Martín. On the way up to the same statue we had run to, our driver stopped in front of a plaque with the Argentine state seal, a condor. There, all the battles from the independence wars are listed and there is actual dirt from where each took place within the display. Super cool. 
At the top of the hill, our driver explained that the statue is one you have to circumnavigate. San Martín is in the front, on horseback with his arms crossed. You travel around and see soldiers from various armies that he encountered on the way. I liked the powerful woman on the top, arms outstretched, looking badass.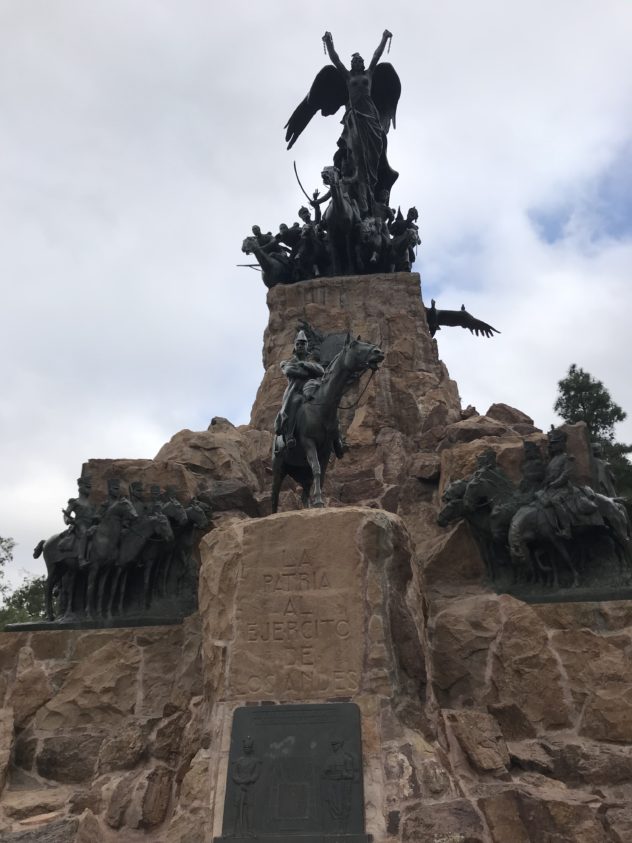 There was a group of runners hanging out by the statue, stretching, and I was dared to go join them. So I did. I walked over, said I had run to the statue the day before and hadn't stretched, could I join them? The Argentines didn't mind at all. We began asking each other questions, and I learned that they're a running group that started in October. They have about 50 members right now, but will reach 80, they think. There are four guys who are the "professors," and they lead all the runs, stretching, and exercises. This run was a recreational run for anyone interested, but normally they split into groups based on ability level. They asked me what brought me there, what I was studying in Chile, etc. I took a photo of the group for them and went on my way. It was pleasant. 
Isa let us hop off the bus at the bottom of the park to check out a sweet farmer's market. We wanted to try all the samples, but were just so stuffed. We eventually made it back to the hotel and rested before another glorious run. We finished the evening off with Chinese takeout (we were all craving something WITHOUT cheese) and a relatively early bedtime.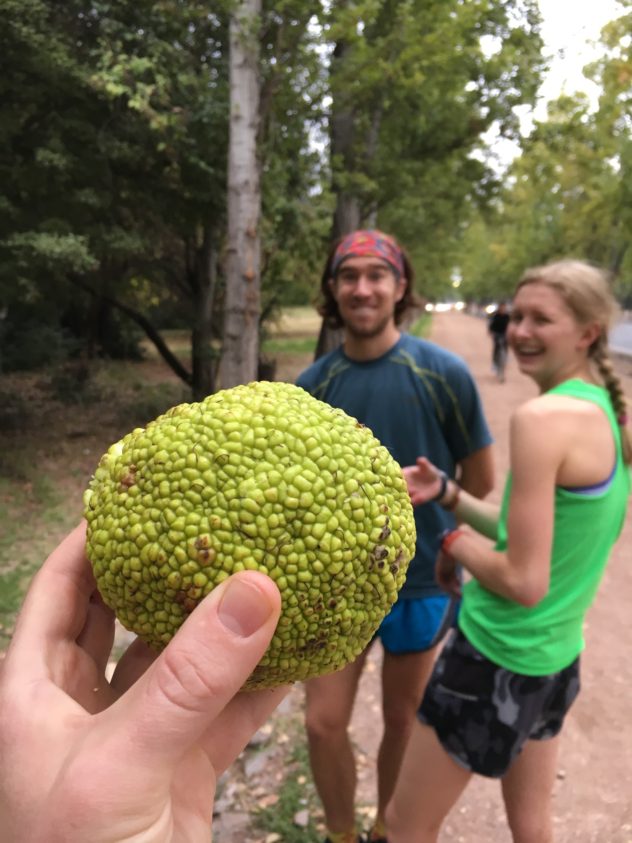 Now we're back in Santiago for only a week and a half! Time has really flown here. Class will be a lot more critical discussion and writing, exhausting and engaging. I think we're all excited to go home, but we're cherishing our final days here as well.